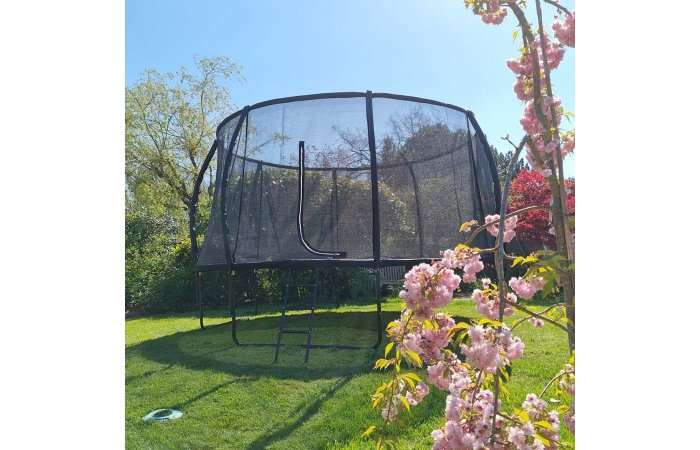 As you will probably know if you read my
latest "Outdoor Fun to keep kids Fit" post
, i am on a mission to get my kids away from their beloved Netflix and more involved in outdoor activities this Summer.
I find it really difficult to keep them entertained outside for more than 15 minutes, as our garden isn't really that big, and the girls have outgrown the slide and become bored of the swing.
The girls had a lot of fun with the Globber Scooter last week, although there were some arguments over it a few times. This week we were given a fantastic review opportunity that would keep the girls entertained outside in the Garden, and wouldn't course any arguments!
Amelie and Lottie were delighted with the
8ft Telstar Vortex Trampoline.
They wanted to play on it as soon as they got home from School and they didn't come off until 6pm that evening when I had to manually remove them from the Trampoline!!
I love how safe this trampoline is, the safety net is strong, the zip works very well and doesn't look flimsy unlike our last Trampoline were the zip broke after the first week!
All the metal bars are padded very well, and everything is fitted securely. The Trampoline is very spacious so there isn't much chance of the children bouncing into each other. The high quality of this Trampoline gives peace of mind when the children are playing on it. I know that they are safe while having fun, and best of all i know that they are getting fresh air while being active which was my goal all along!
We do not have the Trampoline secured down as we have it on a flat area of the Garden, it works fine for us and the Trampoline doesn't move or lift off the ground even with both children on.
However if your garden isn't very flat and you would prefer the Trampoline to be secured down, you can purchase a tie down kit specially for Trampolines for just
£28.00.
You can't put a price on safety but this is a bargain!
Another fantastic thing about this Trampoline is the FREE Vortex cover, this can be used in the Winter months to keep the Trampoline in good condition. The Trampoline also comes with a small ladder, to make access easier for little ones.
The Trampoline is "Lantern style" which means the frame curves around making the encloser more spacious. This gives the Trampoline a more freedom feel. It also maintains maximum rigidity by using the latest fibre rod technology to create a secure frame around the top of the netting.
Designed exclusively for Telstar Trampolines, this is one of the first trampoline range in the UK to comply witht he lastest EN-71 testing which will soon become a legal requirement.
These
Trampolines
are now on sale for just
£139.00
which includes the free Vortex Cover and Ladder.
The trampoline was assembled by Matt and myself, I was able to help him build the frame which took about 30 minutes, I then had to go out to pick the children up from school, he said he would try to get on with building it by himself but most likely would need to wait for me to come back to help him as we had a very hard time putting out first Trampoline together.
To my surprise the Trampoline was all set up when we got home, all ready for the children!
Telstar do offer a home build service for a reasonable fee.
I would highly recommend this Trampoline to parents with older children. We did have a small Trampoline from a well known company which we felt very let down by. The Trampolines zipper broke off meaning the children were not safe anymore, and the material soon weathered.
Trampolines need to be able to survive the bad weather and last long enough to have plenty of enjoyment for many Summers. We feel that our new Trampoline will give us just that :-)
General Information
38 x 1.5mm Anti-Rust Treated Frame
Re-enforced 'T' Style Frame Connectors
20mm PVC Thick Padding
Heavy Duty UV Resistant Polypropylene Bounce Mat
48 x 5.5" Anti-Rust Springs
PVC Safety Net Pole Covers
110g PE Dense Mesh Safety Net with Zip & Buckles
Black Weather Cover
2 Step Ladder
Maximum User Weight 90kg