We all dream of owning the perfect house, with huge bedrooms beautifully decorated just like this one here. I recently downloaded an App on my iphone on how to decorate a bedroom and create a spacious look. I got very annoyed using this app because the bedrooms pictured were very large, mansion like Bedrooms.
Unfortunately we are not all that lucky. However making your bedroom look fabulous without costing the earth is not as difficult as you may think
.
When our little man moves out of our bedroom in the next few months, we will definitely be giving our bedroom a much needed Make Over!!
Allow me to share my ideas with you!
Wall Art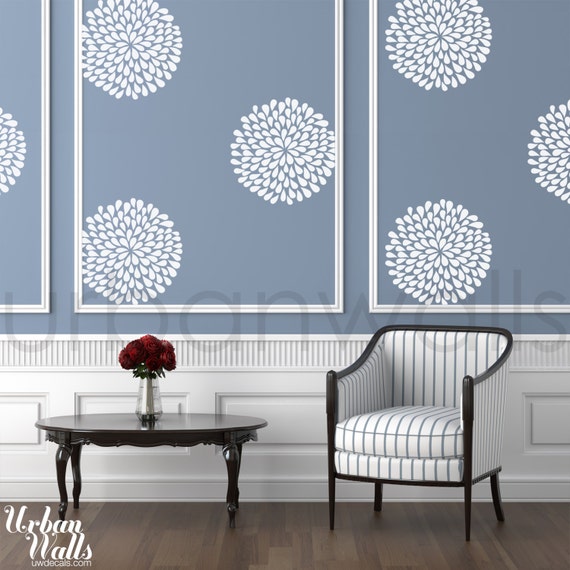 Like me, you may not be brave enough to wall paper your bedroom walls, just incase you decide in a few weeks time that you actuually do not ike that colour!! Or maybe you are renting your home and do not have permission to use wallpaper? Wall stickers may be the way to go.
I have used Wall stickers many times before in the kids bedrooms, they are a great and easy way to add some imagination to any room, not just a bedroom.
There is so much to choose from and it is a lot cheaper than buying rolls of Wallpaper!
This tasteful wall art is from Etsy and is priced at £31.37
Duvet Covers
The main feature of any bedroom is the Bed, which means the Duvet Covers really should match whatever theme you're going for.
I personally like pretty and simple for a bedroom, nothing Pink because my partner would never go for it. But Pretty doesn't have to mean Pink does it?
Butterflies add a hint of elegance to your bedroom, and no matter what your partner may think.. Butterflies are not girly!
I love the Butterfly Duvet cover king size from Yorkshire Linen.
Priced at just £19.99 and with so much choice you can't go wrong with this company!
White Furniture
I absolutely LOVE white furniture for my bedroom. It has such a classy look and blends in well with our pale coloured carpets. I don't think I could ever have any other furniture in my bedroom that isn't white! I have a large make up desk in my bedroom, fitted with 3 drawers on each side. I love it because everything in those drawers is mine, and it's where I sit every morning to apply my make up and start my day. This Jasmine white Make up dresser is a mini version of my make up desk and is priced at £79.99 on
Ebay
. What a bargain!!!!
This gorgeous bedside table chest of drawers adds a gorgeous Vintage look and is priced between £59.99 to £299.99 also on Ebay.
Storage Boxes
Finding somewhere to put all the junk you can't bare to throw out but don't really want on show can be quite tricky! I keep a lot of things most people usually throw out, such as the children's birthday cards and little things they make. We have tried plastic storage boxes but most of them are either see through, or wicker which gets tatty after a while.
We have found a great solution which works for us. My partner came across these lovely hand carved Wine Crates from a Wine Company he used to work with. They look great on top of our wardrobe. They don't get dusty and you can't see what is inside them, and they look lovely too!
They are sometimes available at Car boot sales and can be sold through Wine merchants fairly cheap.